ED&F Man BIBO ship makes 300th voyage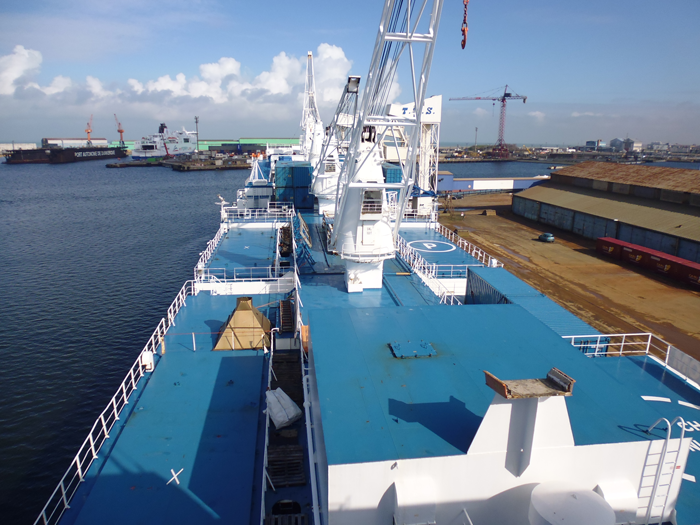 One of ED&F Man's sugar transport ships, the CHL Innovator, marked a milestone in her history when on 31 January she docked in Dunkirk, France, to load her 300th cargo.
During her 32 years of service with ED&F Man, CHL Innovator has carried approximately 5.7 million tonnes of sugar and called at over 75 different ports from New Zealand in the south to Russia in the north, and from China in the east to the United States in the west.
CHL Innovator started life as a conventional bulk carrier, having been built in Scotland in 1976.  She was converted to a BIBO (Bulk In Bags Out) refined sugar carrier in 1986, becoming the first of only three BIBO ships ever built, two of which are operated by ED&F Man. BIBO is an all-weather loading and discharge system for refined sugar that minimises turnaround time in port.
These unique vessels load refined sugar in bulk at specialised port terminals in Europe at speeds of up to 650 tonnes per hour, working day and night.  The sugar is carried in insulated, air-conditioned stainless steel holds that preserve cargo quality.  At the destination port the sugar is transferred from the holds to the on-board bagging plant, from which the full bags are discharged direct from the ship's conveyors to trucks, rail wagons or barges. Direct discharge is not only quicker than conventional carriers, at up to 250 tonnes per hour in bags, but also eliminates quayside handling losses.
CHL Innovator and her bigger sister-ship CHL Progressor are both owned by CHL Shipping Pte Limited, a Singapore company jointly owned by ED&F Man, Südzucker and CristalCo. 
For more information on BIBO, please visit http://bibo-ships.com