Pulses – superfood for the future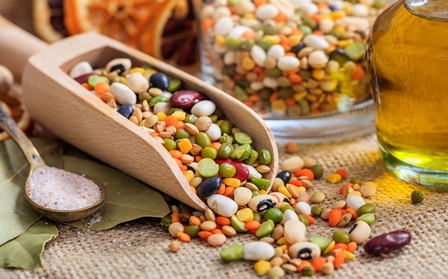 The world faces a challenge. Today, around 800 million people suffer from chronic hunger and roughly two billion live with one or more micronutrient deficiencies, while over half a billion people are clinically obese. By 2050, according to the United Nations, we will need to raise overall food production by 70% to feed a global population of almost 10 billion people.
The challenge is to produce a lot more food, but food that is economical, sustainable and healthy. One of the solutions for fighting world hunger and providing food security and nutrition is pulses, a humble family of plants that deserves far more recognition for the benefits it offers.

Pulses are a low-cost crop that flourish in arid lands and have a long shelf life. They can be eaten straight from the field without the need for heavy processing. They absorb carbon dioxide, use less water than some other major crops and do not need fertiliser because their roots help to break up the soil naturally, adding necessary nitrogen to farmland and improving land fertility.
Pulses are rich in dietary fibre, extremely low in fat and sodium, contain no cholesterol and are virtually free of saturated fatty acids. Their low glycaemic index is particularly beneficial for people with diabetes and regular consumption has proven to lower the risk of heart disease. There are no drawbacks.
In short, pulses are a genuine superfood with which farmers can sow the seeds of a truly sustainable food source..
Maviga joins ED&F Man
Maviga was founded by Marcus Coles in 1994 when he bought US giant ConAgra's UK pulses trading business. It is now one of the leading international specialists in the origination and supply of pulses – mainly dried edible pulses such as beans, peas, lentils, chickpeas and specialty crops such as sesame seeds, cashew nuts and ginger.
In 2015 Maviga ranked 169th in The Sunday Times Top Track 250, with total sales of over $300m and profit before tax of $8m. ED&F Man bought Maviga at the beginning of 2017 to form a new pulses trading division.
Maviga today owns or operates processing facilities in 22 origins and ships to 65 destination markets around the world. It works closely with farmers at point of production and uses manual, mechanical and electronic sorting methods to precision clean and size material before it is packed and shipped to buyers. Marcus Coles, CEO, puts great emphasis on product quality, performance integrity, service commitment and responsiveness.
"Becoming a part of ED&F Man is about the perpetuity of our business, something that ED&F Man with its 234-year heritage understands," says Marcus. "The Group's strong entrepreneurial culture offers Maviga a great platform for growth."
An industry with promising growth
The global market for edible pulses is growing rapidly. Most pulses are consumed where they are grown, but around eight million tonnes - 10% of world production - are traded cross border each year. Maviga already handles 4% of this trade flow.
India and China's population growth has outstripped their ability to remain self-sufficient in pulses. Both are important destinations for Maviga, with Canada, Australia, Myanmar and East Africa being the main exporting countries.
Pulses have traditionally been thought of as a dietary staple for developing countries. Now, changing tastes, food industry trends and health concerns are creating new demand in the developed world, where people care more about what they are eating and want to know more about the provenance of their food.
All the drivers are there for a promising future for pulses. The market is highly fragmented, with around 1,800 varieties of pulses grown across 170 countries and an average annual growth of 5.7% expected over the next five years. Maviga is on a dual mission: first, to see pulse crops take their rightful place as the future of food and, second, to leverage the ED&F Man network and realise their ambition to become one of the biggest global players in agricultural special crops.